Research program Erasmus+ Sport "Start Aiming Functional and Entertaining RUNning (SAFE-RUN)"
Details

Last Updated: Tuesday, 07 March 2023 22:31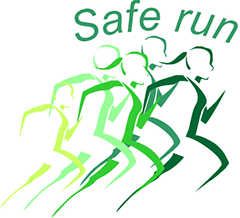 Democritus University of Thrace, with Scientific Coordinator Dr. Anastasia Beneka, Professor of School of Physical Education and Sport Science, coordinates and implements the Research program Erasmus+ Sport "Start Aiming Functional and Entertaining RUNning (SAFE-RUN)".
European partners of the program are:
• European University Cyprus (EUC), Cyprus
• University of Salerno and its School of Medicine (UNISA), Italy
• HOCSH (Hellenic Organization of Company Sport and Health, Greece
• Dro.Me.A A Racing, running group in Cyprus, Cyprus
The SAFE-RUN project is based on the interdisciplinary approach and aims to the area of "protecting athletes –especially the youngest– from health and safety hazards by improving training and competition conditions" while is targeting to a European grass-root sport, the running.
The milestone of the project is an innovative application addressing running injuries' prevention and treatment that developed primarily focusing on:
the importance of complete training for optimal musculoskeletal functioning,
the early recognition of symptoms of overuse, and
on the provision of training guidelines for recreational runners who train by themselves without any scientific guidance.
The purpose of the SAFE RUN project is to highlight the problem of inadequate scientific support for trainees-runners in their effort to practice their leisure time. By creating a tool that will help prevent and functionally manage musculoskeletal problems resulting from the lack of the appropriate scientific supervision in the design and implementation of any form of exercise, the project partners will provide safety and efficiency in recreational running while fostering health status and wellbeing.
The project explores the problems and proposes solutions while covering two scientific fields that cooperate with each other and overlap:
The scientific area of functional exercise aiming to manage musculoskeletal problems through prevention and treatment
The application of Counseling to the runner-user during the exercise execution in order to promote appropriate exercise training by following the appropriate instructions, not the interruption due to health problems.
Site: https://saferun.eu